Costa Rica Writing Retreat – Day 1
One of my favourite activities each year is taking a group of writers from all over North America to an incredible eco lodge in the Costa Rica rain forest, where I lead writing workshops and discussions for seven magical days. There are few things more inspiring than the opportunity to help others find their voice as writers.
I landed in San Jose yesterday, took a few hours to read the short stories and novel excerpts some of my writers had sent, relaxed at a hotel for the evening and returned to the airport at noon today to meet everyone's flights. Half our group is American this year, half Canadian. All come looking for an adventure, and hoping to discover something new about themselves as writers, and as people. San Jose airport is a bizarre introduction to the country: one moment, you're in the calm of the terminal, and the next, the crazy madness of taxi drivers, tour guides and others, all holding signs and shouting. Exhilarating or overwhelming, depending on your perspective. But there were no hitches. I connected with all the writers without incident, and we found our minibus driver. By mid afternoon, we were on our way to our retreat.
As we ascended into forested highlands, it occurred to me that with some types of retreats, you can predict the demographic. A retreat holiday focused on fishing or yoga will attract certain ages and personality types more than others. But with writing retreats that's not the case. I've had all ages from 12 to mid 80s, all walks of life. There really is no way to predict who will come. And that's what makes the groups so exciting.
Arriving at Finca Luna Nueva is always an experience. The serenity, the wildness, the exotic beauty of the place is like nothing else. As I led my writers to their rooms, they exclaimed over the sounds, the dense forest behind the lodges, the loveliness of the pool and even the cute little beehives.
We relaxed and chatted together over dinner, tired from our travels. The rest of tonight is about resting. The writing begins tomorrow.
But on our way back to our rooms around 8pm, some of us shared an unbelievable experience. A sloth had climbed down from a tree, got confused and ended up hanging onto the wooden post supporting the lodge building. He blinked at us, seemingly unconcerned. Danny – who works at Luna Nueva – gently prised his limbs from the post, hooked them onto his broom and carried him over to a tree. I've seen sloths on all our writing retreats, but never, ever this close.
A wonderful first day. Tomorrow, a farm tour, then our first writing workshop!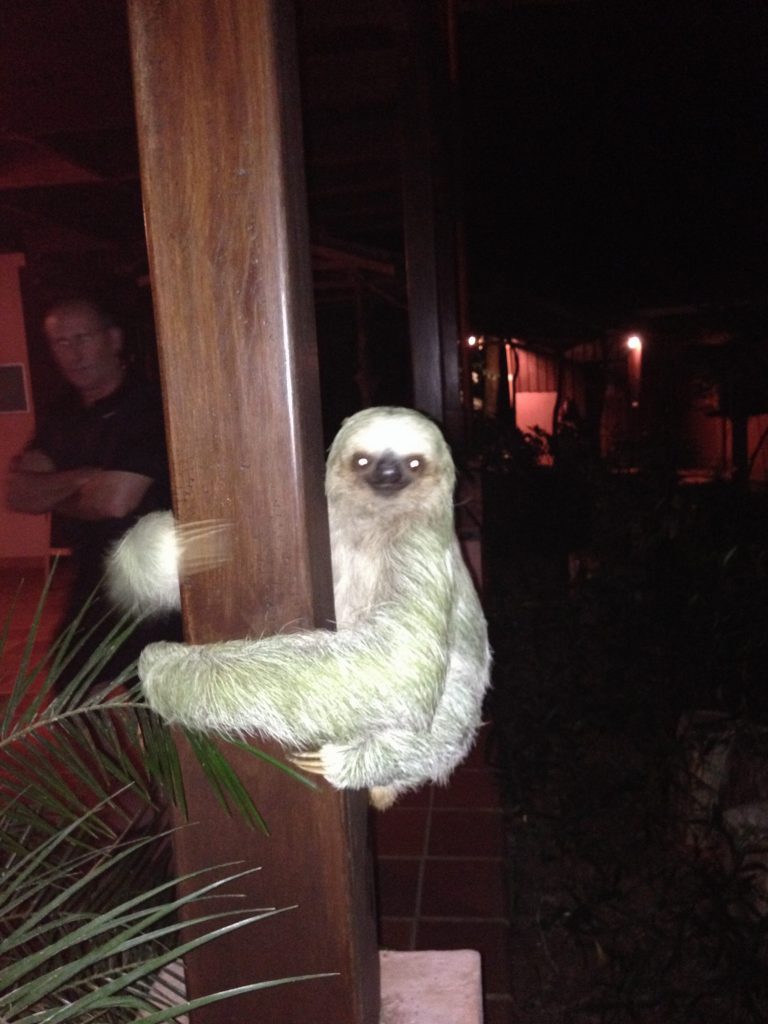 For information about our writing retreats for adults and families – and our culture tours for teens – go to www.artsacademy.ca . For information on our arts summer camps, go to www.centauriartscamp.com