It's 'Authors for Indies' this weekend!
These days, emerging Canadian authors rely on thriving independent bookstores more than ever. Why? You may have noticed that it's often difficult to find works by emerging Canadian writers in the big box stores. And though you'll find them in online stores, they are often buried among the works of more established authors. So the support of independent bookstores, and the enthusiastic readers (and writers) who work there, can be essential to new Canadian authors as they establish a firm readership.
This coming Saturday, 30 April, is Authors for Indies Day across Canada – a time for Canadian writers to give back, and a terrific opportunity for readers to meet their favourite authors, whoever they may be.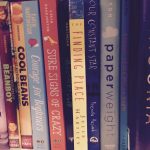 If you want to learn more about Authors for Indies, you can go to http://www.authorsforindies.com/. Better still, visit your neighbourhood independent bookstore this Saturday to meet authors, learn about the books they recommend, ask questions (from the perspective of a reader, or a writer) and be part of the chain (Canadian writers, publishers, distributors, independent bookstores, bloggers, reviewers and READERS) that ensures the literary scene in Canada remains one of the more respected in the world.
I will be volunteering at Book City in Bloor West Village, Toronto, from 10.30am to 11.30am this Saturday. For information on author-guests at all their locations, go here: https://www.facebook.com/bookcityto/